FEDORA
GENERALI
Prize for Opera
Nominee 2019
Back to 2019 Nominees
Jury
Nominee
Violet
/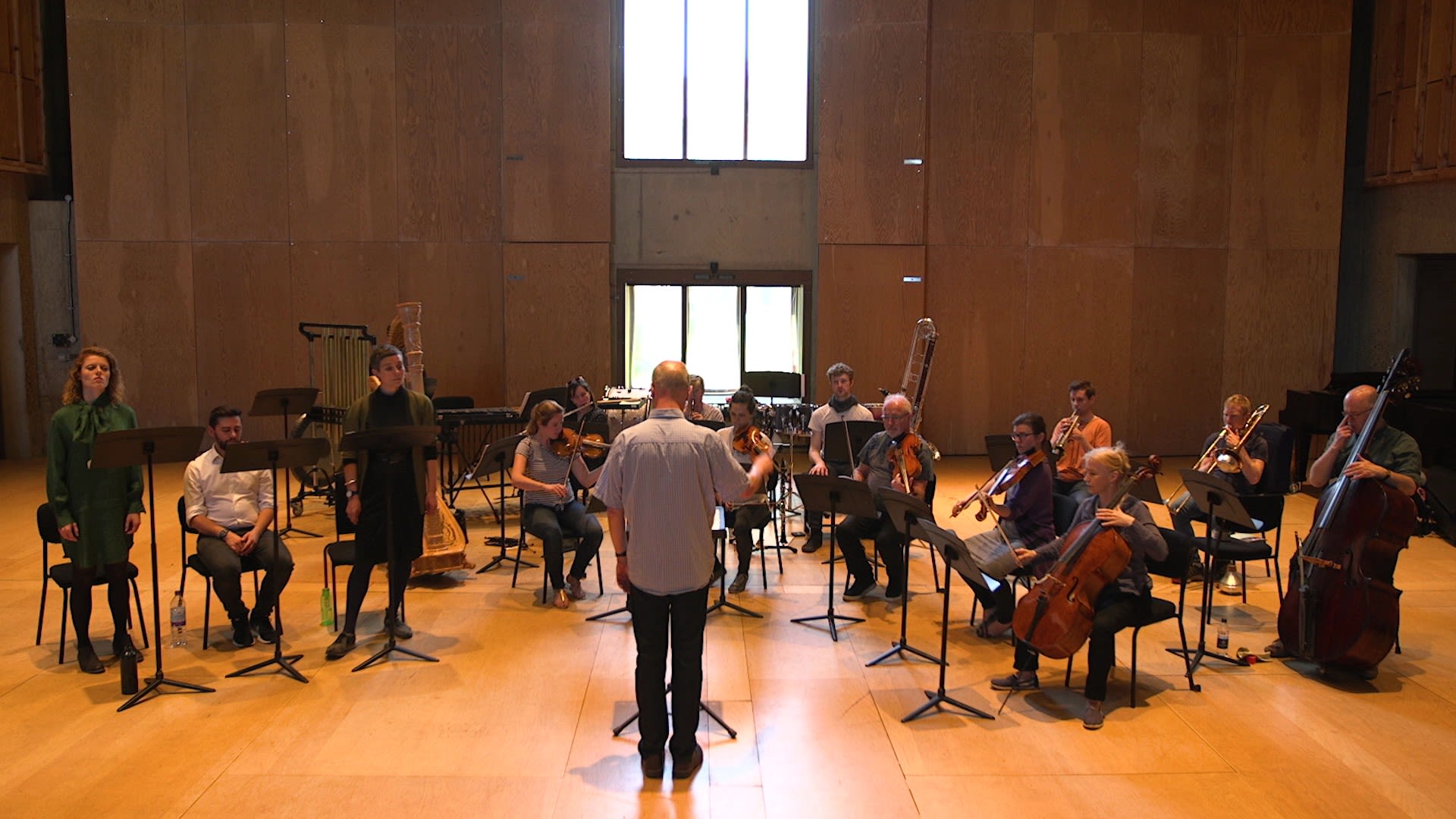 Violet R&D workshop - Britten Studio © Snape Maltings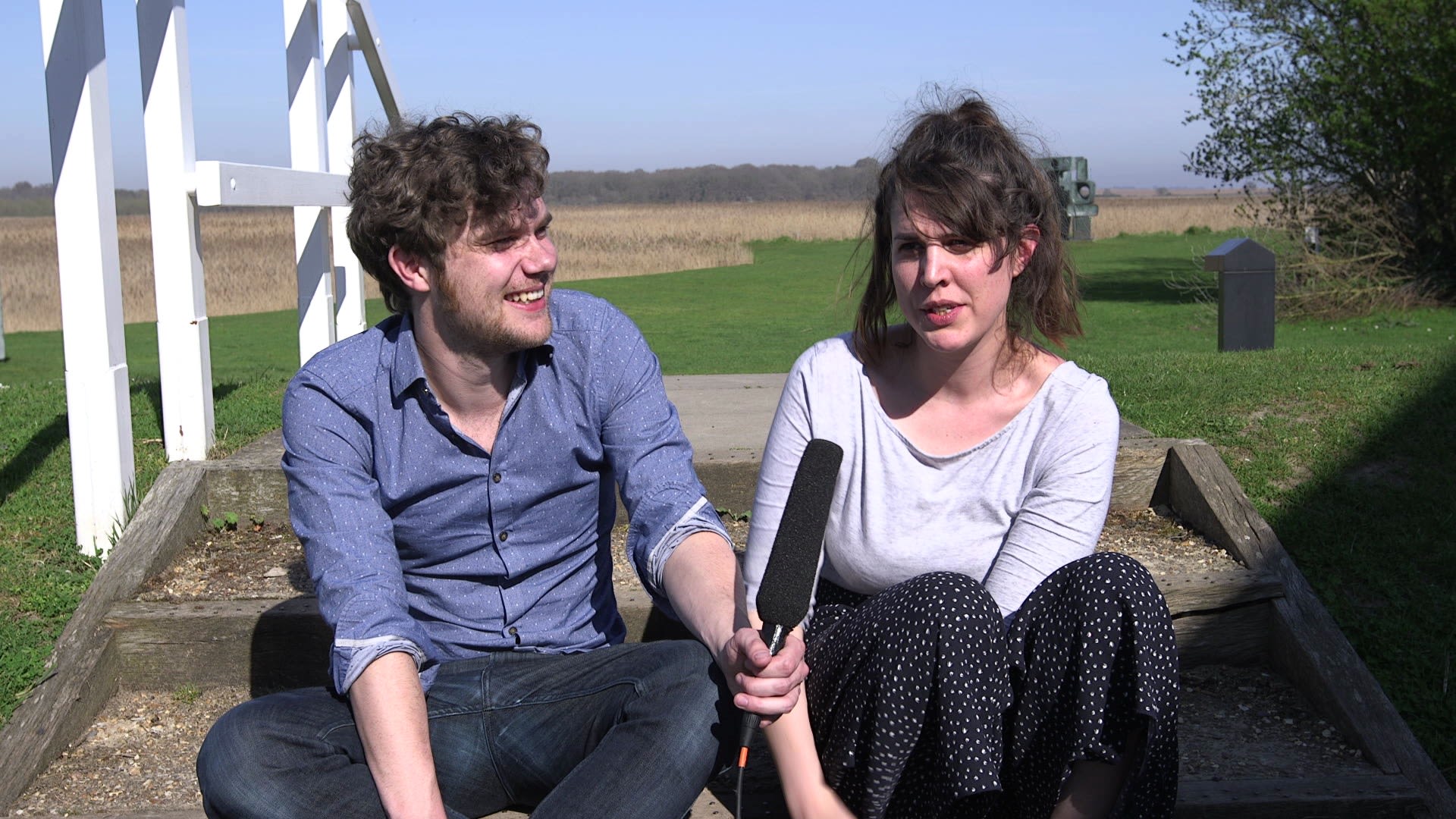 Tom Coult and Alice Birch © Snape Maltings
Violet promo © Lleucu Meinir
Violet promo © Lleucu Meinir
About the Project
Minutes and Seconds and Hours take Centuries to fall into days.And yetPerhapsLast night. Last night I thought I felt it quicken.And I willed it on.
[Part of the libretto for Violet]
In a town controlled by a monolithic clock, an hour is lost every day.
Trapped in an unhappy marriage and alienated from her rigid neighbours, Violet senses a way out. And staying still is no longer an option.
As the hours disappear, an isolated community is thrown into disarray. Long-held certainties evaporate as time is altered and nothing will be the same again.
Combining the acclaimed talents of playwright Alice Birch, known for her powerful female-centred writing, and rising star composer Tom Coult, this is opera for now and about now, with a universal message that will not go away.
Read more
The telling of Violet is true to the writing of Alice Birch, well known for her powerful, female-centred dramatic writing which is highly intelligent, uncompromising, sensitive and sincere. The treatment of this story is compelling as an opera for two principal reasons: The powerful emotional and societal issues at stake in particular for the central female character but also for the men in the story as they fail to deal with the consequences of the collapse of time and their ordered world. The idea of time disappearing is also a prime motivator for the music and offers Tom Coult great opportunities for musical development and argument.
A co-commission and co-production by: Music Theatre Wales (Wales) Theater Magdeburg (Germany) Snape Maltings (England). This is the first time the three co-producers have worked together.
Importantly the collaboration will bring the opera to more locations and more audiences than any single company could achieve.
This is a new opera and is the first opera for both the composer and writer. The collaboration of two such significant figures at this stage of their already successful but young careers marks a moment of significant risk and enterprise for both of them and for the commissioners. The innovation here is the creation of this drama as an opera through the combination of these two exceptional talents.
Why should you support us?
Music Theatre Wales is committed to continuing the great tradition of opera, transforming it through exploring new ideas and telling new stories in bold, exciting ways.
Snape Maltings is an internationally-renowned creative hub, championing the best young artists from around the world and enabling them to thrive.
Together, we're bringing this universal story of one woman's struggle against an oppressive society, created by two of the most promising young artists of our time, to an international stage.
We're doing opera differently, and we need you to help us.
Opera is for now. This ambitious project, incorporating performances at Music Theatre Wales, the Aldeburgh Festival and Theater Magdeburg, tells a story with resonances to the #MeToo movement and speaking to a world with ever increasing pressures on time and self-expression.
Opera is for the future. Opera needs continual re-imagining and re-igniting with new work that builds on its incredible history and takes it somewhere new. This is Tom and Alice's first opera, and the beginning of several potential future collaborations between MTW and Snape Maltings. In giving Tom and Alice this vital springboard, you are shaping the future of opera for generations to come.
Opera is for everyone. We also want this work to have an impact on opera itself, offering audiences a story that will resonate with their lives, but which reaches deep into their psychological and emotional beings. This piece is designed to make you stop and think.
If you also believe in investing in future talent, in opera that speaks for everyone and in changing perceptions, then please pledge your support now.
Your support will make a huge difference.
Opera is costly, both in terms of time and money. The production costs for an opera on this scale are €280,000 before the curtain goes up.
During the rehearsal and performance process we will spend:
- €500 on piano tuning
- €1500 on super-titles
- €5000 on costume, wigs and make-up
- €20,000 on orchestral rehearsals
Violet has already come a long way; the words and music are ready for the stage. Your support will make it possible to bring each minute of the opera alive. 

Who are we?
Tom Coult, composer and Alice Birch, writer are young artists who have established themselves as having a unique voice and exemplary technique. In terms of opera they are clearly emerging artists. Having met at the Opera Creation Academy at the Festival Aix en Provence in 2014 led by Martin Crimp, Coult and Birch began working together two years ago under a Jerwood Fellowship at Snape Maltings.
Tom Coult's work has been championed by many of the UK's major orchestras and ensembles including the Mahler Chamber Orchestra, BBC Philharmonic Orchestra, London Sinfonietta. In July 2017 his St John's Dance was premiered by the BBC Symphony Orchestra at the First Night of the Proms.
Recent performances include 2018's String Quartet for the Ardittis, repeat performances by the Netherlands Radio Philharmonic and Royal Philharmonic Orchestras, and a new piece for the Riot Ensemble. 2020 will see the premiere of a new violin concerto for Daniel Pioro and the BBC Philharmonic Teachers include George Benjamin. Awards include the Lili Boulanger Memorial Fund Prize and the Royal Philharmonic Society Composition Prize.
Alice Birch is the winner of the Arts Foundation Award for Playwriting 2014 and co-winner of the George Devine Award for Most Promising Playwright.
Theatre includes: Anatomy of a Suicide (Royal
Court), Revolt. She Said. Revolt Again. (RSC/Soho Rep NYC), Ophelias Zimmer (Royal Court/Schaubuhne Theater Berlin), We Want You to Watch (National Theatre), Little Light (Orange Tree), Little on the inside
(Almeida/Clean Break) and Many Moons (Theatre 503).
Film includes Lady Macbeth - winner of the International Critic's Prize at San Sebastian Film
Festival 2016, the Best First Feature at Zurich Film Festival 2016 and the winner of Best Screenplay at Turin Film Festival 2016. Alice is currently under commission to Paines Plough, The National Theatre, The Royal Court, The Almeida and Clean Break. She is writing an original pilot for Plan B and a second feature film.
Rebecca Frecknall
Stage Director
Partners
Snape Maltings
United Kingdom
If you are a company or tax resident in Belgium, Bulgaria, Croatia, France, Germany, Greece, Hungary, Italy, Spain, Switzerland or the United Kingdom and do not wish to receive the associated crowdfunding benefits, you can receive a tax receipt instead. To do so, please click on "Pledge without a reward" and type in the amount you wish to donate.
Please note that according to the Charities Aid Foundation, UK residents can only obtain a tax receipt for donations between GBP 100 and GBP 9,999.
Please note that according to the Swiss Philanthropy Foundation, Swiss residents can only obtain a tax receipt for donations of minimum 100 CHF.
Donations as of €5 are still possible via FEDORA's payment page for anyone wishing to make a donation of under £100 or 100 CHF without receiving a tax receipt.
Learn more about possible benefits or tax deductions related to your donation
here
.
Support sustainable innovation in opera and dance